Mold Tooling
Cutter Body Identification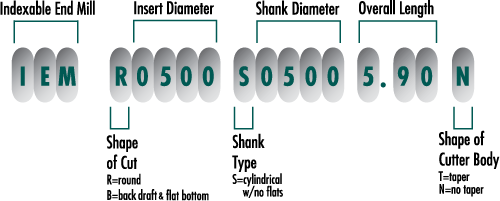 Insert Identification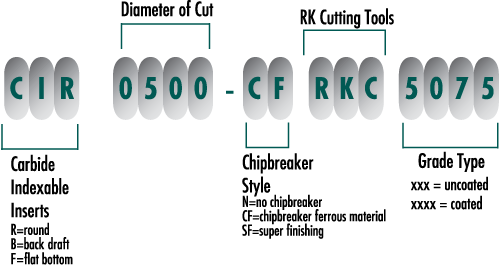 "N" Style - No Chipbreaker
Our most popular insert has no chipbreaker and incorporates 7 degree's of radial clearance. The "N" Style is primarily used for semi-finishing and finishing of ferrous materials between the hardness range of 28-48 Rc. The superior strength of the "N" Style cutting edge allows materials up to 48 Rc to be machined in some applications.
"CF" Style - Chipbreaker
This insert is nearly identical to the "N" Style geometry except it has a precision ground chipbreaker. The "CF" Style is extremely effective in roughing ferrous materials in the hardness range between 28-35 Rc. The chipbreaker's smooth and free cutting action reduces cutting pressure which reduces horsepower requirements; wear and tear on the machine spindle; and, improves insert life and surface finish. In soft "gummy" materials the "CF" Style chipbreaker eliminates built-up edge which can lead to premature edge chipping of the insert and a poor surface finish on the work piece.
"SF" Style - Super Finishing
Our "SF" Style is targeted towards today's modern high speed precision milling machines. The "SF" Style is used in light cuts to achieve very fine surface finishes. The "SF" geometry significantly reduces cutting pressure which minimizes tool flex resulting in an extremely smooth surface finish and dimensional accuracy. The most significant benefit is a reduction in bench time.
RKC 505
An uncoated grade made from a fine grain K10 powder. This grade's primary application is in soft non-ferrous materials. It is also an excellent substrate material for special coatings and for PCD tipping.
RKC 5015
A TiAlN PVD coated fine grain carbide made from K10 powder. This grade is excellent in semi-finishing and finishing of ferrous materials in the 28-48 Rc range. RKC 5015 is extremely hard and
RKC 5075
A TiAlN PVD coated carbide. This grade is primarily used in roughing applications. RKC 5075 has an extremely tough substrate, yet is surprisingly wear resistant due to its TiAlN coating. Dry machining is recommended for most applications. Low tensile strength materials can be machined wet.
RKC DP10
A Polycrystalline Diamond (PCD) tipped grade which is excellent in graphite. RKC DP10 is extremely wear resistant even at the higher surface speeds used in today's modern machines.
TiAlN
A Titanium Aluminum Nitride coating which is applied by the PVD method. The outer layer of this coating transforms into a highly wear resistant Aluminum Oxide surface from the heat that is generated during the milling operation.