Home »

Schmarje Thread Mills
Schmarje Thread Mills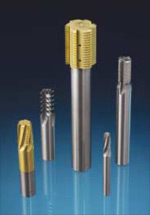 Full-Form, cam ground tools that are easily re-sharpened by simply grinding the flute face.
Thread milling produces more consistent and accurate threads in comparison to conventional tapping.
Thread mills are more versatile, allowing multiple diameter holes of the same pitch to be threaded with the same thread mill.
Threads produced by thread mills offer superior thread quality and higher strength — 20-30% over tapped holes!
Thread milling offers substantially reduced cycle times and less horsepower requirements.
Thread milling means no broken taps and plugged holes which often leads to scrapping expensive parts.
Tool Fab's line of Schmarje thread mills are 100% CNC ground out of superior grades of sub-micrograin carbide and are held to tight tolerances for accurate and precise results.
Tool Fab stocks a large selection of standard thread mills (both solid carbide and carbide-tipped) in both inch and metric sizes. Solid carbide thread mills are available in helical or straight flute designs. We manufacture special thread mills of all shapes, sizes and designs with lead times of 2 weeks or less! See Tool Fab's Tool Refurbishment Programs section in this catalog for the best, most competitively priced thread mill re-tipping and re-sharpening/regrinding programs in the industry!