Indexable Carbide Shank Boring Bars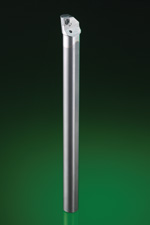 The best guarantee on the market today if the braze breaks we'll replace the tool for free. (Call Tool Fab for warranty details)
Standard ISO inserts are available from Tool Fab at very competitive prices.
Off-the-shelf delivery in both right and left in standard sizes.
Special indexable boring bars available upon request. Request for Quote
Insert pocket is rotated 90° from the braze for maximum strength and long-term durability run after run.
Each indexable boring bar comes with Tool Fab's unparalleled technical service and years of tooling experience.

Tool Body
Part No.*
ISO Class
Tool Fab Insert Part No.**
Insert ISO No.
Tool Fab Screw Part No.
Min Bore
B
O.A.L.
C
Shank Diameter
D
Rake Angle
E
Center Line Dim.
F
Insert Lead
G
TF 06250R
E06
TF 07223
CCMT 21.51
TF 26250
0.500
6.00
0.375
-15°
0.250
5°
TF 06250L
E06
TF 07223
CCMT 21.51
TF 26250
0.500
6.00
0.375
-15°
0.250
5°
TTF 06250R0
E06
TTF 07223
TCMT 21.51
TF 26250
0.500
6.00
0.375
-15°
0.250
0°
TTF 06250R3
E06
TTF 07223
TCMT 21.51
TF 26250
0.500
6.00
0.375
-15°
0.250
3°
TF 06251R
E08
TF 07223
CCMT 21.51
TF 26250
0.625
8.00
0.500
-9°
0.313
5°
TF 06251L
E08
TF 07223
CCMT 21.51
TF 26250
0.625
8.00
0.500
-9°
0.313
5°
TTF 06251R0
E08
TTF 07223
TCMT 21.51
TF 26250
0.625
8.00
0.500
-9°
0.313
0°
TTF 06251L3
E08
TTF 07223
TCMT 21.51
TF 26250
0.625
8.00
0.500
-9°
0.313
3°
TTF 06251R5
E08
TTF 07223
TCMT 21.51
TF 26250
0.625
8.00
0.500
-9°
0.313
5°
TF 06252R
E10
TF 07223
CCMT 21.51
TF 26250
0.812
10.00
0.625
-7°
0.406
5°
TF 06252L
E10
TF 07223
CCMT 21.51
TF 26250
0.812
10.00
0.625
-7°
0.406
5°
TTF 06252R3
E10
TTF 07223
TCMT 21.51
TF 26250
0.812
10.00
0.625
-7°
0.406
3°
TTF 06252L3
E10
TTF 07223
TCMT 21.51
TF 26250
0.812
10.00
0.625
-7°
0.406
3°
TF 06253R
E12
TF 07224
CCMT 32.52
TF 26253
1.000
10.00
0.750
-10°
0.500
5°
TF 06253L
E12
TF 07224
CCMT 32.52
TF 26253
1.000
10.00
0.750
-10°
0.500
5°
TF 06254R
E16
TF 07224
CCMT 32.52
TF 26253
1.250
10.00
1.000
-5°
0.625
5°
TF 06254L
E16
TF 07224
CCMT 32.52
TF 26253
1.250
10.00
1.000
-5°
0.625
5°
*Note: Please specify C-2 or C-5 Carbide Grade.
**Note: Please specify S (solid) or C (coolant-through) to the Tool Body Part No. (i.e.TF06252RC)
R=Right Hand
L=Left Hand